BUSINESS
Business involves a multitude of binding legal agreements. From purchasing office equipment and supplies to large-scale, complex transactions, the contract is essential to the operation of business.

Legal expertise is necessary in the drafting, negotiation and enforcement of these agreements. A proper balance of compromise and insistence on indispensable terms is required. However, strict interpretation and failure to analyze the "big picture" can lead to failure.

PERSONAL
In our personal lives, contracts are also ever present. Obtaining bids to remodel a home, purchase a car, and other seemingly minor transactions all involve legal agreements. Often, agreements may be drafted to mislead.

SOLUTIONS
In short, a small amount of time spent in planning and prevention, or early intervention by an attorney in a legal dispute can help to reduce or eliminate the problem at its source. Defense of claims for breach of contract can be expensive and time consuming. In such cases, aggressive, affordable legal representation is necessary.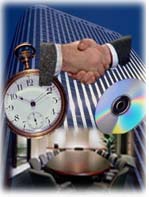 Business & Contracts
arbitration
negotiation
drafting
breach of
contract
fraud
misrepresentation